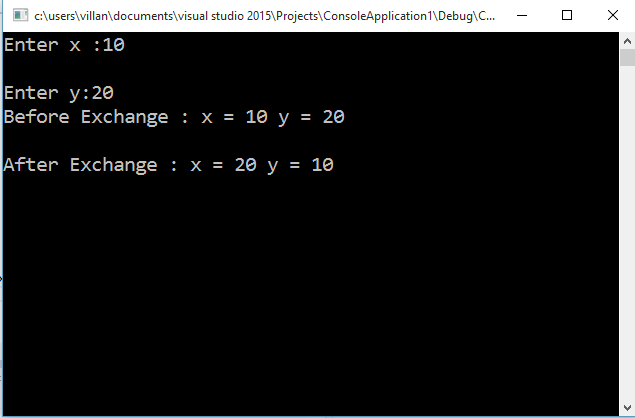 C++ program to exchange values of two variables (Swapping) using pointer. This program uses a function called exchange(int*,int*) that takes two argument as integer pointers. The variables are passed by reference method and hence, the swapping done at the exchange function will reflect in the main method also.
void
exchange(
int
*,
int
*);
        cout<<

"Before Exchange : x = "

<<x<<

" y = "

<<y<<

"nn"

;
        exchange(&x,&y);  //Calling Exhcange function to swap
        cout<<

"After Exchange : x = "

<<x<<

" y = "

<<y<<

"nn"

;
//No need to return any values since the variables are already affected.
void
 exchange(

int

 *a, 

int

 *b)
        t = *a;   //Saving data in first variable to an intermediate one
        *a = *b;  //Saving second variable to first
        *b = t;   //Saving intermediate variable to second
[Compiled using Visual Studio]